Island Estates
Home Price range: $900k-$2Mil
Lot Price Range: $200k-$600k
Gated, Luxury, Clubhouse, Part of Hammock Dunes Club
HOA: $328 monthly
Minimum Home Size (living square feet): 3,000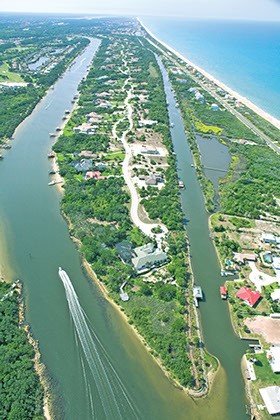 Island Estates is a prestigious high-end luxury development. It is a small island in the ICW located in the Northern peninsula of Flagler County. Island Estates is an affiliate with Hammock Dunes, which has a private golf course designed by Tom Fazio. Gated bridge access across the Canal ensures both security and privacy for the residents of this Island paradise.
The overall design theme is based on the colors and exterior design features of the most prestigious and traditional Mediterranean homes. Minimum building side-setbacks consisting of twenty feet ensure an estate level of separation between homes. The minimum size requirement for a home is 3,000 square feet with existing one and two story homes ranging in size from 3,700 to 18,400 square feet. Lot sizes range from one to two acres with the average lot ranging from one to one and one-half acres. Some homeowners have combined lots to create a four-acre estate. Each lot borders either the Intracoastal Waterway or the Florida East Coast salt water canal, with approximately 150 ft. of frontage. Most Intracoastal lots include deep-water boat docks. The maximum building height is 35 feet from the finished grade.
Island Estates is one of the few communities in America where you can truly dock your boat in your backyard and still walk or bike to the ocean. Ocean access is available to residents via a Hammock Dunes private, gated walkover that is located just to the east of Island Estates. The Island offers many options to its residents. You can enjoy beautiful waterfront vistas from the privacy of your own custom built home or explore the Intracoastal, or canal, right from your own boat dock. You can walk a pristine Atlantic Ocean beach that is just a short distance away,or take long walks on the Island itself along its two-mile long parkway. The choice is yours when you live in this unique Neighborhood.
Island Estates Occupancy and Use Restrictions