The Sanctuary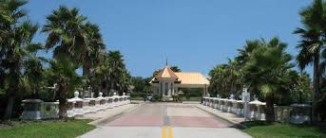 Home Price Range: $430,000-$1,000,000+
Lot Price Range: $85,000-$750,000
HOA ($130 monthly)
Gated Community, Luxury Development, Intracoastal Waterway
At the end of Cimmaron Road lies an island that offers Intracoastal Waterway, saltwater canal, lake, and serene estates. This island is a private, gated community located in the heart of Palm Coast's Sailboat Country, known as The Sanctuary.
Centrally located in Palm Coast, The Sanctuary is secure with one small bridge providing residents and guest access to the community. Large lots, wildlife, and captivating oak trees are only a few of the things that make this this tranquil community unique. You can watch dolphins, manatees and yachts cruise the Intracoastal Waterway or use the bicycle/walking trails to get some exercise. Fishing, boating, and swimming are all part of the active Sanctuary lifestyle.
There is plenty to do just outside The Sanctuary with golfing, parks, restaurants, and shopping located conveniently nearby.
If you are looking for a quiet, secluded atmosphere with being in the heart of Palm Coast, The Sanctuary is the community for you.
Minimum Building Size: 2500 Living Square Foot
No time requirement to build


Design and Development Guidelines