Buddy Taylor Middle School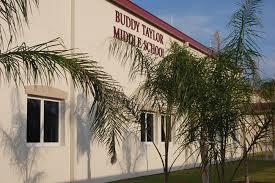 4500 Belle Terre Parkway, Palm Coast, FL 32164
Phone: (386) 446-6700
District: Flagler County School District
Grades Students Can Enroll: 6th-8th
2017 Florida Dept. of Education School Grade: C
Buddy Taylor Middle School (BTMS) is located off Belle Terre Parkway, in the heart of Palm Coast. BTMS strives to prepare students for the 21st century with Flagship programs that stimulate the minds of their students. These programs are designed to have students think and work in creative ways which helps them solve problems more efficiently and communicate with others.
The Flagship programs focus on agronomy, biotechnology, and engineering. Students can also explore the worlds of agricultural science, aerospace, green technology, health science, engineering, computer science, marine research, business & finance, leadership, the arts, and more through Flagship program studies. There are outstanding elective courses in BTMS that enhance the student's abilities to succeed in life, health, happiness, and creativity. Such elective programs include culinary arts, chorus, band, dance, art, journalism, physical education, Spanish, and musical theatre.
BTMS holds social events for children with autism and sensory deficiencies through their Exceptional Students Education program. This program was developed for students and families to enjoy social activities in a supportive, stress free environment.
Guidance also plays and important role at BTMS. It provides the opportunity for students to acquire academic, social, and career skills essential to successfully transition into high school. BTMS believes that students will become responsible, respectful members of the community through the combined efforts and encouragement of school counselors, parents, and teachers. This combined effort will focus closely on the student's academic and social progress which will ensure a successful future.
Overall online reviews from parents: Facebook 2.5/5 Great Schools: 3/5
To visit official Buddy Taylor Middle School Website click here.