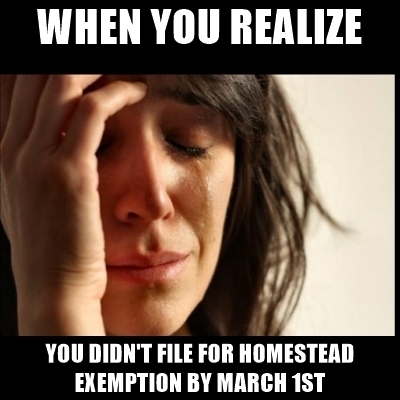 The Gist of It
Home owners, are required to meet two deadlines to qualify for homestead exemption. First, you must be a Florida resident, own and occupy the dwelling as a primary residence by January 1 of the year you claim homestead. A primary residence, defined as the residents living in the dwelling six months plus one day or more the year, and every year thereafter, you file for homestead exemption. Secondly, you must file for homestead exemption before March 1 of the year in which you are claiming homestead.
Items You Will Need to Bring
Evidence of ownership or beneficial interest
A copy of the documents you received at closing. Bringing your closing documents may be helpful in cases where the home in which you are claiming homestead, is not yet recorded.
Evidence of permanent Florida Residence
ALL of the following items must reflect the permanent residence address.
A valid Florida Driver's License
A Florida Voters registration card (if applicable)
Vehicle registration
If you have any more questions or concerns about homestead exemption, please contact me anytime.
Tony Garren
RE/MAX Select Professionals
(386) 237-7079
www.garrent.com
realty@garrent.com